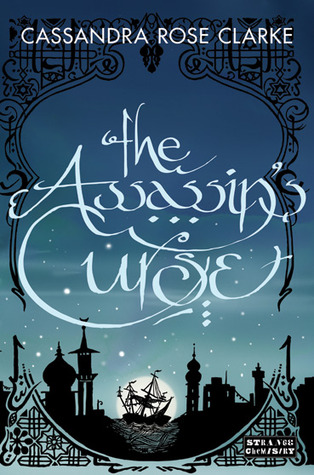 The Assassin's Curse by Cassandra Rose Clarke
Series: The Assassin's Curse (#1)
Publisher: Strange Chemistry
Published: October 2nd 2012
Summary: "Ananna of the Tanarau abandons ship when her parents try to marry her off to another pirate clan. But that only prompts the scorned clan to send an assassin after her. When Ananna faces him down one night, armed with magic she doesn't really know how to use, she accidentally activates a curse binding them together.  To break the spell, Ananna and the assassin must complete three impossible tasks–all while grappling with evil wizards, floating islands, haughty manticores, runaway nobility, strange magic…and the growing romantic tension between them."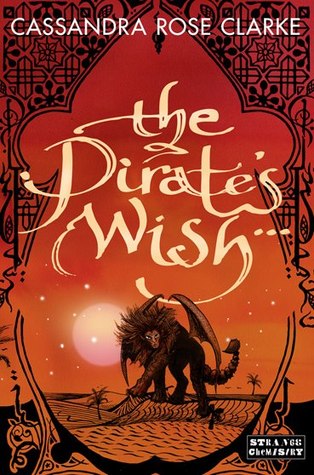 The Pirate's Wish by Cassandra Rose Clarke
Series: The Assassin's Curse (#2)
Publisher: Strange Chemistry
Published:  June 18th 2013
Summary: "After setting out to break the curse that binds them together, the pirate Ananna and the assassin Naji find themselves stranded on an enchanted island in the north with nothing but a sword, their wits, and the secret to breaking the curse: complete three impossible tasks. With the help of their friend Marjani and a rather unusual ally, Ananna and Naji make their way south again, seeking what seems to be beyond their reach.
Unfortunately, Naji has enemies from the shadowy world known as the Mists, and Ananna must still face the repercussions of going up against the Pirate Confederation. Together, Naji and Ananna must break the curse, escape their enemies — and come to terms with their growing romantic attraction."
Review
This is something unusual but I decided to make my comeback to the book community by making a double review! Mostly it's because I marathoned this two books and, honestly, I can't remember if this scene or that one were part of the first book in the duology or not. I promise not to make some major spoilers!
After going through university's awful final's period, I knew I had some reviews late and had to post something. However, I just wanted to read something new before posting those, just relax and take my mind of school. So I went to my goodreads TBR list adn started scaning it. My eyes fell immediatly on The Assassin's Curse, mainly because many people were talking about it and I had no idea what to expect from it. The cover didn't tell me anything and I'm not one for pirate and assassines' books but oh, well, I just thought it wouldn't hurt to pick it up. I needed something different, something that would take me to a different world.
And oh, boy, didn't it. The Assassin's Curse is a lovely series that I wish would have more books in it. WE CAN JUST NOT BE SATISFIED WITH TWO BOOKS. BELIEVE ME, it will mess with your head and make you call your friends to read it so they can suffer as well. (That's right Soffs, you will be getting a call soon)
The Assassin's Curse is about a Annana, a pirate girl who was sent to get married to another pirates' family, the Harriri. Long story short, she doesn't want to and runs off which makes the family retaliate and send an assassin to kill her. When he finds her, she ends up saving his life and a curse bounds him to her. He has to protect her until he can break the curse, if she dies, he dies. I have to be honest, to this point I was already getting into the book but I didn't know if this was the kind of book that would stay with me.
However, while the story goes on you can't help but be hooked. You get to love Annana for all her craziness and pirateness. She might be childish sometimes, but I guess she has a right to be and it's not one of those character that annoy you. The assassin, Naji, is this mysterious guy with his blood magic that will be the ultimate victim of Annana's craziness because his curse makes him get headaches and whatever whenever she gets in danger, which is pretty much all the time since she won't stay put.
One thing that led me to love this series is the fact that we are not dealing with out of the world extremely beautiful characters. Annana is described as not being the prettiest of the women, let's say. Naji has left of his face scared and people are constantly afraid of him. This was a change that I welcomed because, well, all those beautiful characters in the books, while I apreciate them so I can drool over all the incredible sexy guys we read about, kind of set high standards and are starting to make us all look at the boys and think, "Hey, that is no Daemon Black! I want an Adrian Ivashkov now!"
While being action packed, this series doesn't neglet the romance. I loved all sea battles and scare worthy moments but I like me some fluffy scenes and I just want to give Cassandra Rose Clarke a big kiss on the cheek for making me smile like a maniac sometimes. All those touch don't touch moments, gyahhhhhhhh. (felt like that was needed, sorry) Although those happen mostly in The Pirate's Wish, The Assassin's curse has plenty of parts that will make you squeel of happiness.
All that aside, I have to talk about my favourite character. During their mission to remove the curse, Annana and Naji get stranded in an island. There they get to meet certing characters but there was one that stuck with me. The manticore, also known as Ongraygeeomryn, is the best pet ever. Okay, she isn't a pet, she is a wild creature that will eat you but this one, she just rocks. All in all, I want to have one.
The ending of the first book is pretty standard. Annana and Naji are stranded on that island and are thinking about how to break the curse. The Pirate's Wish starts right where the other book ended. However, I must say I was pretty surprised by the actual ending. The characters seemed to have grown in personality and suddendly we're not seeing Annana anymore. To be honest, I wasn't satisfied with the ending. I liked it, better yet, I loved it. It was beautiful, happy and sad at the same time, but I wanted more. I needed that third book! Next paragraph is a spoiler, you have been warned:
How could Naji say he had to stay an assassin in the Order and go separate ways from Annana, Yes they love each other, they managed to get bounded together in the middle of the second book by blood magic, and then, just like that, they decided to stay together, but separate. WTF. Okay, they'll see each other sometimes but WHY. At least then give us a peek into the future, let us see they meeting again. I finished reading the series and just though Fuck it. I loved it but PLEASE GIVE US MORE. In a way, Annana's wish came true: she got her own boat and became a captain. But… She needed to have Naji there with her. Not fair *pout face*
Cassandra Rose Clarke's series is full of wonders and I envy her imagination.
The Assassin's Curse
 5 Chibis
The Pirate's Wish:
4 Chibis
(not getting more because my feelings are hurt)