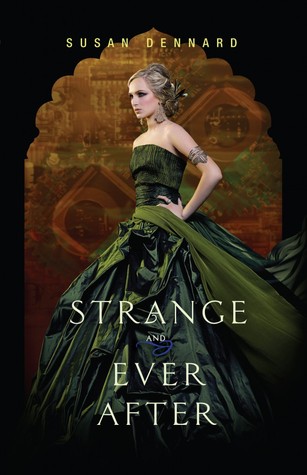 Strange and Ever After by Susan Dennard
Series: Something Strange and Deadly (#3)
Published: July 22nd 2014
Publisher: HarperTeen
Blurb: "In the conclusion to the trilogy that Publishers Weekly called "a roaring—and addictive—gothic world," Eleanor Fitt must control her growing power, face her feelings for Daniel, and confront the evil necromancer Marcus…all before it's too late. He took her brother, he took her mother, and now, Marcus has taken her good friend Jie. With more determination than ever to bring this sinister man to justice, Eleanor heads to the hot desert streets of nineteenth-century Egypt in hopes of ending this nightmare. But in addition to her increasingly tense relationships with Daniel, Joseph, and her demon, Oliver, Eleanor must also deal with her former friend, Allison, who has curiously entangled herself in Eleanor's mission. With the rising dead chomping at her every move and Jie's life hanging in the balance, Eleanor is convinced that her black magic will see her through to the bitter end. But there will be a price. Though she and the Spirit Hunters have weathered every battle thus far, there will be consequences to suffer this time—the effects of which will be irreversible. And when it's over, only some will be able to live a strange and ever after. Susan Dennard will leave readers breathless and forever changed in the concluding pages of this riveting ride."
Review
Sorry, for I cannot be coherent right now. HOW COULD THIS BE? HOW? I can't possibly write a proper review for this book because I'd probably spoil it for everyone and I want everyone to read the finale of this beautiful series. I might not have liked the first book, but Strange and Ever After is one of those books that will reach to your heart and then just squeeze and squeeze and BAM FEELS EVERYWHERE. So, instead of a written review, here is a GIF review, which I haven't done in a while but I think it's what's best for now…
So I'm all happy starting the book
And then some shit happens and everything is good again, and some shit happens again and Eleanot goes badass but mean. That's okay for me because I like badass.
But then, some shit REALLY happens and you start to hate someone
And then SHIT SHIT happens and you get depressed and life has ended for you. You have to get someone to read the book to help you pass this difficult time. Your friends don't want to because they see how you are. Life ends once again.
The End
4.5 Chibis