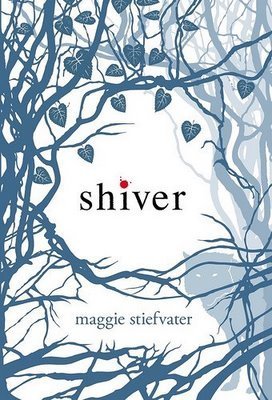 Shiver by Maggie Stiefvater
Series: The Wolves of Mercy Falls (#1)
Published: August 1 2009
Publisher: Scholastic Press
Summary: "For years, Grace has watched the wolves in the woods behind her house. One yellow-eyed wolf—her wolf—is a chilling presence she can't seem to live without.
Meanwhile, Sam has lived two lives: In winter, the frozen woods, the protection of the pack, and the silent company of a fearless girl. In summer, a few precious months of being human… until the cold makes him shift back again.
Now, Grace meets a yellow-eyed boy whose familiarity takes her breath away. It's her wolf. It has to be. But as winter nears, Sam must fight to stay human—or risk losing himself, and Grace, forever."
 Review:
If once upon a time you read Twilight and you were Team Jacob, I understand if you still feel mad that Edward got Bella. Cause let's admit it, Edward was a boring blood sucker…
As such, if you want to read a book where the werewolf gets the girl this is your … wait a sec… whatever…just read this book it's about werewolves!
Welcome to Mercy Falls, a quaint little city surrounded by forest and crappy weather  also, if you happen to live here there's a 95% of chance of seeing a wolf everyday, and not just by the forest, also while you are at school.
Say hello to Grace, a 17-year-old girl who is obsessed with wolves. No, seriously, all she can think about is "her" wolf, how sad she gets on summer, because he never shows up by her house on summer. Basically, Grace is a huge fangirl… for "her" yellow-eyed wolf.
She is pretty much always disconnected to the outer world unless she's with "her" wolf. This girl does have a stalker streak.
One day, Jack a guy from her school, is killed by wolves… or so they say. When people start hunting for wolves Gracie-girl goes berserk… until she finds a naked guy on her porch (sounds familiar? *smirks*), the poor guy is bleeding out from his neck. Somehow Grace just knows it's her wolf!
After she and Sam (wolf boy) talk to each other (seriously she wasn't even surprised he was a werewolf), she takes him home. They start living together, he sleeps with her in her bed, and her parents don't even notice it! Seriously, I wish my mom payed a little less attention to me sometimes, also my parents are always going in and out of my bedroom!! So I really don't get it.
Thing is, werewolves only turn into wolves on Summer, because it's warmer, cold weather is a trigger for them, if it's cold, they turn. Also, they have a limited amount of times to turn. Sam only has one more shift in him, after that, he will never be able to be human again.
I also have to mention Grace's friends… I really disliked them, especially Olive, she was selfish and weak, I really don't know how she and Grace became friends…
Most of the time Sam didn't know whether to kiss Grace, fuck her against a counter or just pretend he wasn't sporting a hard on and reject the poor girl's affection (ok, I'm exaggerating…). One thing it annoyed me to no end while I was reading was his indecisiveness and how…lyrical he was… the guy just conjured lyrics for songs out of the blue, I believe the author just made it so because girls dig poet dudes (?), well I don't.
The rest of the book was enjoyable, a little bit too long in my opinion, since nothing much really happens except in the end. Speaking of which, the ending was very satisfying, I might be reading the second book of the series, but just not now… I have another book on my mind!
3 Chibis