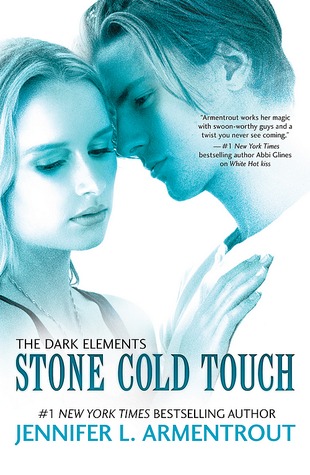 Stone Cold Touch by Jennifer L. Armentrout
Series: The Dark Elements (#2)
Published: October 21st 2014
Publisher: Harlequin Teen
Blurb: "Every touch has its price. Layla Shaw is trying to pick up the pieces of her shattered life—no easy task for a seventeen-year-old who's pretty sure things can't get worse. Her impossibly gorgeous best friend, Zayne, is forever off-limits thanks to the mysterious powers of her soul-stealing kiss. The Warden clan that has always protected her is suddenly keeping dangerous secrets. And she can barely think about Roth, the wickedly hot demon prince who understood her in ways no one else could.
But sometimes rock bottom is only the beginning. Because suddenly Layla's powers begin to evolve, and she's offered a tantalizing taste of what has always been forbidden. Then, when she least expects it, Roth returns, bringing news that could change her world forever. She's finally getting what she always wanted, but with hell literally breaking loose and the body count adding up, the price may be higher than Layla is willing to pay…"
Review
You know that moment when you pick up a book that you're dying to read and when you finish it you just think "What the fuck did I just read?" Yeah… Stone Cold Touch was a bit like that. I'm sure my lovely co-blogger Sofyy would love to disagree with me and make me not write this review but I'm sorry to say that Stone Cold Touch sucks. Big time.
Now, those who know me and who follow me on goodreads know I LOVE Armentrout's books, she's a book goddess to me, so let's just get this clear right away: whatever I say in this review is not against the author, I love her works and will continue to buy her books as soon as they get released. However, Stone Cold Touch was a huge disappointment and I can't help but vent my frustration on a review.
White Hot Kiss ended with Roth being sucked into the pits of Hell while saving Layla. Stone Cold Touch picks up soon after that scene. Layla is mourning Roth, Zayne is there for her and Bambi is still being the lovely third wheel that won't let Zayne get too close to Layla, which is fine by me! Suddenly, CHABAM, Roth is back. Shit is happening, a Lillith or whatever has been made and they must destroy it before it destroys the world. I have no problem with the action and where the story is going, for me it's perfect but knowing JLA one must know there is a heavy dose of romance coming.
I love me some romance. You come to my house and open my bookshelves and you're hit with rows and rows of romance books and manga! But I don't like when the characters are desperate for it. Here we have Layla all hung up on Roth (and with reason! He's perfect goddamnit) when he goes missing and Zayne is back in the game. He's smart, obviously, who wouldn't take this perfect chance to get the girl he likes? The problem here is that Zayne only started moving AFTER he found out she was with Roth. And then, Layla is so undecided about who she likes that she kisses Zayne and whatnot WHILE thinking about Roth. And when I say this I mean she is constantly thinking about Roth. While she kisses Zayne, while she touched Zayne's fabulous abs, when she looks at Zayne, everytime! Okay, if you haven't guessed it yet, I'm team Roth. He might have been a little of a jerk in the beginning of the book but it's obvious he's head over heels for Layla. It was incredibly frustrating to see how the story was developing and knowing that Layla was becoming dumb as a door.
Also, I don't know what happened but Layla suffered a huge personality change. I've read White Hot Kiss some time ago, when it was released, so some things might not be as clear as they should be in my head, but I don't remember Layla being this sassy or outgoing girl. Contrary to other JLA's heroines, she was less badass, she was weaker in a sense, and that was perfectly fine. I was a bit thrown off with this change but I want to see where this is going.
On another point, fans of this author already expect cliffhangers as an ending. Although we do get one, I think this book fell short. There was no mystery to what was going to happen. I saw it coming miles away. It was so on your face, everyone can predict the final in the first chapters. It was sad and I just hope that JLA can make a big comeback and finish this series with a bang with Every Last Breath.
1.5 Chibis