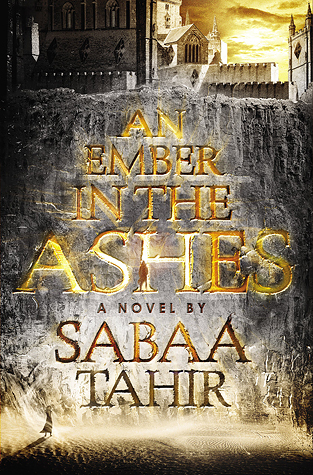 An Ember in the Ashes by Saaba Tahir
Release date: April 28th 2015
Publisher: Razorbill
Summary: "Laia is a slave. Elias is a soldier. Neither is free.
Under the Martial Empire, defiance is met with death. Those who do not vow their blood and bodies to the Emperor risk the execution of their loved ones and the destruction of all they hold dear.
It is in this brutal world, inspired by ancient Rome, that Laia lives with her grandparents and older brother. The family ekes out an existence in the Empire's impoverished backstreets. They do not challenge the Empire. They've seen what happens to those who do.
But when Laia's brother is arrested for treason, Laia is forced to make a decision. In exchange for help from rebels who promise to rescue her brother, she will risk her life to spy for them from within the Empire's greatest military academy.
There, Laia meets Elias, the school's finest soldier—and secretly, its most unwilling. Elias wants only to be free of the tyranny he's being trained to enforce. He and Laia will soon realize that their destinies are intertwined—and that their choices will change the fate of the Empire itself."
Review
Holy fuck, this was awesome. It has everything: original plot, interesting and intriguing characters, action, gore and an awesome worldbuilding!
However I did have one problem with it and that's why I give it 4.5 stars and not a well rounded 5 bright star:
– The love story: come on, you can't give us a messed up love-square. Does Laia like Keenan or Ellias? Does Ellias like Laia or Helena. Just make up your mind, don't let us have feelings for certain characters and then be always changing it. However, I do not know who I was rooting for. I Loved Keenan but when Ellias appeares I swooned. Also, his POV was amazing, better than Laia's!
And the Trials! Were they exciting and heartbreaking. I loved them, I hated them. I felt a lot of things reading this book. I believe I cried during the 3rd Trial. I cried like a fucking baby.
Now, the biggest problem and doubt: is this the end? Do we get the well needed sequel? I hope we do because if we don't I have to lower the rating. This would happen because the story doesn't end, it has barely even started! So I'll patiently wait for a sequel…
4.5 Chibis