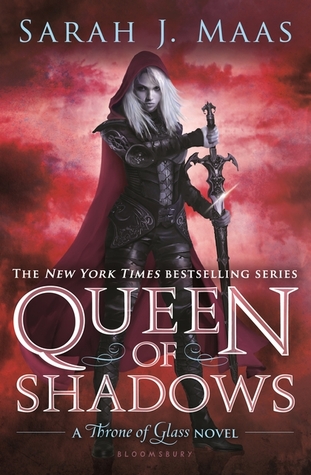 Queen of Shadows by Sarah J. Maas
Series: Throne of Glass (#4)
Publisher: Bloomsbury USA Childrens
Published: September 1st 2015
Summary: "The queen has returned.
Everyone Celaena Sardothien loves has been taken from her. But she's at last returned to the empire—for vengeance, to rescue her once-glorious kingdom, and to confront the shadows of her past . . .
She has embraced her identity as Aelin Galathynius, Queen of Terrasen. But before she can reclaim her throne, she must fight.
She will fight for her cousin, a warrior prepared to die for her. She will fight for her friend, a young man trapped in an unspeakable prison. And she will fight for her people, enslaved to a brutal king and awaiting their lost queen's triumphant return."
Review
THIS REVIEW CONTAINS SPOILERS. OBVIOUSLY.
I'll only say this once: if you haven't started reading the Throne of Glass series what are you doing with your life? This series is one of the best out there, it's life itself and come on, everyone has been raging about it since the first book came out in 2012. Sarah J. Maas has done something beautiful with the series and I am now going through a book comatose: the phenomena in which you finish a book and every single book you pick after that feel like crap and you get the feeling that no one else can write a book as good as the one you've just read. This is a shitty phase to go through because you want, you NEED to read something else because of all the feelings you have but nothing satisfies you.
In Queen of Shadows Celaena, or should I say Aelin, returns with a new spirit and ready to kill her enemies and take back what's hers. As much as I like this series I am sad to say that neither Heir of Fire nor Queen of Shadows have been able to reach the awesomeness level of Crown of Midnight. That was a book that has stayed in my head and I feel like it'll never leave and that's why it's one of my ultimate favourites. However, Queen of Shadows was a huge improvement in comparison to Heir of Fire (which was too long in my opinion and Manon chapters were boring as hell). Queen of Shadows made me feel: I cried, I laughed, I was enraged, I was relieved. It was a worthy and long-awaited sequel and I don't know what's coming next. I can only say that I am afraid of the next book but can't wait to have my hands on it. Also, let's take notice on how beautiful all the covers are!
Right in the beginning of the book, Aelin goes to meet Arobyn and I can't tell you how much I was so not expecting that. But that being said, most of the things in Queen of Shadows surprised me, one of them being how much some characters have changed. Now, let me get this straight. I know that some readers were upset with the whole Aelin-Rowan pairing apparently coming out of thin air. I actually wanted them to be together since Heir of Fire. However, I felt like the feelings between them just appeared out of nowhere. In Heir of Fire, they had a platonic relationship that I was hoping would turn into something more. Aelin was already feeling something towards Rowan, I believe, but Rowan didn't show any sign that he loved Aelin in any romantic way, ever. So, I didn't know what to make of it at the beginning, especially when Rowan goes to meet Aelin in about 1 third of the book and they have an emotional reunion. Not that I'm upset, I had what I wanted! Nevertheless, I wanted a bit more of a slow development going on there. I wanted to be with the characters as they were developing feelings for one another. Also, Chaol. Just what the fuck is going with this. Things ended badly before Aelin left the kingdom. Chaol found out she was the rightful queen of Terrasen and things went south real fast. However, they loved each other. What bothers me here is that the Sarah J. Maas led us to believe that what they had was real, and it was, you could feel that they had loved each other through the words. Be that as it may be, in Queen of Shadows they barely speak to each other. They hate each other with a passion and let's not forget that Aelin told him before leaving that she'd always pick him. What happened to all of that? I just don't know if the author decided the characters needed to move on, which I agree on but not in such a manner, or if she just got upset with the way things were going and decided to rewrite them a bit.
In terms of the rest of the plot, Queen of Shadows is all I've ever asked for. There is not a single moment of peace and you can't get enough of action. While in Heir of Fire we were introduced to a slower pacing, Queen of Shadows leaves the former books in the series to the dust in terms of action. The conspiracies, plots and Aelins master plans are never-ending and I was always being caught off guard. I simply loved it! Dorian's chapters broke my heart. Sorscha is dead and he's now a puppet for the king. The ending of Dorian's storyline in Heir of Fire broke me to pieces and I almost couldn't bear to read his chapters now for I just wanted to get into the book and help him somehow. The way you get into his head and get to know how a Valg demon prince operates is simply fascinating and I can't thank Sarah J. Maas enough for the incredible and incomparable world building she has created for this series. Manon was another surprise. While I just kept on skimming through her chapters before, I couldn't get enough of her this time. She's such a complex character and one of the best additions to the saga. The witches have gone through some terrible things with the Duke and Manon's grandmother and are now ready for doing some damage and who knows, maybe aiding Aelin? One of my favourite chapters was when Manon and Aelin finally meet! It was done brilliantly. If you expect a simple talk or just a passing by think again! This women are crazy and as badass as you've never seen and couldn't stop from attacking each other. It was simply amazing and gave way to another one of my favourite scenes: Manon's warning to Aelin that Dorian was still very much alive even while his body was being controlled by a Valg prince. Oh, the shivers!
Now Aelin is back to Terrasen and I can't even begin to explain my anxiousness to read the next installment. I want to know how Chaol is going to deal with being injured and how Nesryn will help him, I want to know when Dorian and Manon will meet again, when Aedion will stop being haunted by Lyssandra jumping on him in a ghost leopard skin, if Elide will ever find Aelin and most of all, what Aelin and Rowan will face in Terrasen.
4 Chibis