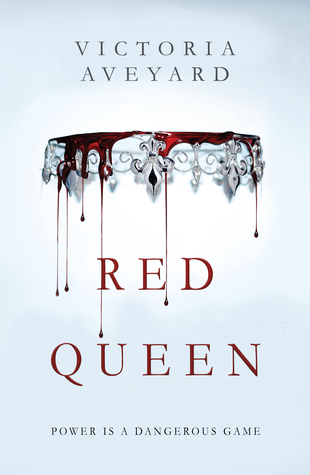 Red Queen by Victoria Aveyard
Series: Red Queen (#1)
Published: February 10th 2015
Publisher: Orion
Summary: "The poverty stricken Reds are commoners, living under the rule of the Silvers, elite warriors with god-like powers.
To Mare Barrow, a 17-year-old Red girl from The Stilts, it looks like nothing will ever change.
Mare finds herself working in the Silver Palace, at the centre of
those she hates the most. She quickly discovers that, despite her red blood, she possesses a deadly power of her own. One that threatens to destroy Silver control.
But power is a dangerous game. And in this world divided by blood, who will win?"
Review
This book had so much buzz going on about it that I didn't resist reading it. As I've said several times before I'm not a huge fan of dystopian novels but it seems that I have a trend going: I keep on picking up books set in a dystopian world. Fortunately, I actually quite enjoyed Red Queen. It wasn't perfection but it was highly enjoyable and I am certainly looking forward to reading the much awaited sequel, Glass Sword.
First of all I'm not going to lie and say I didn't get certain vibes from another books in Red Queen. Many people have said that the premise is the same of Red Rising by Pierce Brown but since I have never read that book and I can't make a comparison and say if that is true or not. I can say, however, that I thought obvious the influence of The Selection by Kiera Cass in the making of this book. Now, I didn't love The Selection and only read it because I wanted to see where it was going (and didn't end up finishing the series and most probably won't pick up the 3rd, 4th and so on, if they happen, ever). Despite this, I felt like the competition between the Silver girls to marry the princes was better conceived and the fact that the competition wasn't the whole plot and only made up 10% of the book and it was right in the beginning made me more favourable towards the future premise which would undoubtedly have much to offer. I wasn't wrong on that part and while I thought that some parts could have been more carefully planned or structured, I believe Red Queen is a great beginning to what will be an action packed, albeit with hopefully a good romance, series.
Unlike many books that have been coming out for some time now, Red Queen does an excellent job with its world building. I've read some books in which authors introduce the readers to a new world with no explanation of how it was formed or how it works at all and when things happen they do so without justification: oh a person has powers now, awesome, it comes out of nowhere but who cares. Red Queen has left many questions unanswered but I know that all my curiosity will be satisfied in the next installments.
Also, Victoria Aveyard will mess with your head. I wouldn't be completely honest if I didn't suspect that something wasn't right with all of Mare's plans going right and I had a suspition of what was going to happen but I wasn't expecting that ending. I want to know more about what is going to happen to Mare and Cal and the revolution and you can't bet that I will be getting my hands on Glass Sword as soon as it is released.
4 Chibis